Ref:
Date:
Location:
Photographer:
Ref:
Date:
Location:
Photographer:
Bullfinches at Winchester Hospital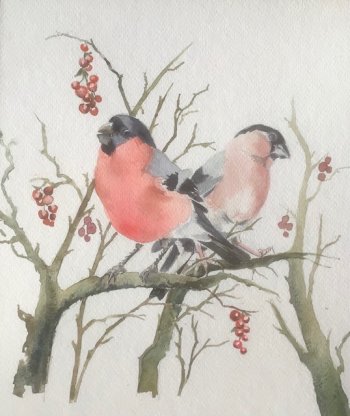 Bullfinches in watercolour are a new addition to my display in Winchester County Hospital.
Fish Lake Meadows. During the rather damp Autumn /Winter 2020 I have enjoyed walking around Fish Lake Meadows Romsey, for inspiration.
Display with Richard Paul at Waterstones, Salisbury , Aug 9th - 6th Sep
Last Stop on the Urban Sketcher's Virtual tour is MIAMI !
Genoa 2
Genoa
The first of two from this location on the Urban Sketching Virtual tour.
Virtual Urban Sketching continued....Oslo
More Virtual Urban Sketching - Bruges
On with the Virtual tour. First stop Bruges!
Virtual Urban Sketching during 'Lockdown'
Sketching and painting on location is one of my favourite activities. When I can I love to take part in Southampton Urban Sketcher's meet-ups. Of course this is now curtailed….but wait! the admin of Southampton USK are not to be thwarted, and so they enabled us to take part in a virtual sketching tour which has started in and around Ocean Village Southampton, before departing further afield !
More from the Lyrical Exhibition, Harbour Lights see below, open daily from first film showing, (check with Cinema) until late. (Thanks to Bruce Larner for Photos).
'Lyrical' Exhibition on now until 27th Nov 2019 Harbour Lights Cinema (Gallery Space) open daily from first film showing until late. Credit to Bruce Larner for Photos.
My first Solo Exhibition 'Lyrical' the artwork is inspired by song titles or lyrics. Opening Nov 2nd - Nov 27th. At Harbour Lights Picture House Southampton. The Gallery Open Mon-Sunday (check first film time) usually about 11.45am, bar opens 1.00pm.
The Autumn Show at Romsey Continues....daily until Oct 12th SO51 9LG
This is 'Cosmos' in watercolour
Autumn Exhibition at Romsey Art Group's Mountbatten Gallery
Open from Sat Sep 28th to Oct 12th daily from 10am to 5pm, Mountbatten Gallery, Lee Church Lane, Lee near RomseySO51 9LG
(One of my entries Hot House Flowers, acrylic on box canvas)
Bullfinches & Berries
New original acrylic painting at Winchester Hospital in the Butterfield Link.
Prints available
Hampshire Open Studios
Again this year the open studio event has been a delight, many more venues in the brochure, but still a good number of visitors to Romsey Art Group's Mountbatten Gallery We will be having a break from it next year to participate in the Romsey Festival.
Southampton City Gallery, Foyer Exhibition
Southampton Art Society are exhibiting in the downstairs foyer of the City Gallery from Sat 10th August to Tues 21st September,
Oxford Street, Southampton, in collage and mixed media, is one of my entries.
New Forest Show 30t,h 31st July & 1st Aug
A rather rainy start to the NFS today, maybe it will cheer up for the rest of the event, but visitors can shelter from the elements in the Art Pavilion, where they will find these cheeky characters, painted in acrylic on box canvas.
Winchester Hospital Butterfield Link Exhibition
Long Tailed Tits, acrylic painting, now in Winchester Hospital Exhibition, I have also made prints of this painting,(image size 20 x 30cms) £16.00. See Cards and Prints Gallery. 25/07/2019
Playing with scale
Sometimes it's good to change scale, I've just finished this tiny acrylic landscape measuring 12 x12cms as a break from working on larger pieces, also varies pace, as larger works can take a while, so nice to complete something a little faster.... and now back to the big ones! 21-06-19
Sketching at Shamrock Quay
Latest 'Urban Sketcher' - watercolour, a lovely warm morning at Shamrock Quay in Southampton, boats moored at the pontoons with a huge cruise liner in the background.
Allotment Shed
I Had great fun making this ceramic shed, to continue with my Allotment/garden shed theme. Happily, it sold at Romsey Art Group's Spring show!
'Four Seasons' at Southampton City Gallery
Open Exhibition at the City Gallery, with the theme of the seasons, I am lucky enough to have two pieces of work in this show, which is open from Feb 3rd to April 21st
Southampton Art Society Exhibition
Southampton Art Soc Exhibition is being held in The Jane Austen Suite of The Dolphin Hotel, Below Bar, Southampton
from;
Friday 13th Oct 10am to 5pm
Sat 14th Oct 10am to 7pm
Sun 15th Oct 10am t0 4pm
Romsey Art Group Autumn Exhibition 30th Sep to 14th October
Romsey Show
Members of Romsey Art Group will be exhibiting and demonstrating their work at the Romsey Show on Saturday September 9th
This is 'Itchy Scratchy' he will be exhibited in the R.A.G tent on Saturday, He also visited The New Forest show this year where he was awarded 'Best in Show' (he even got a rosette!)
Chandlers Ford Art Group Summer Exhibition
As part of Hampshire Open Studios, Chandlers Ford Art group have their annual Summer exhibition at Kings Court Masonic Centre, The Hillway, Winchester Road, Chandler Ford SO53 2GG Monday 21st Aug to Monday 28th Aug, 10.30 am to 4.30pm.
Romsey Festival Exhibition at Mountbatten Gallery, Lee, Near Romsey SO519LG
Romsey Art Group are taking part in the local festival.
Open 10am to 5pm Thurs 6th July to Sunday 9th July
Titchfield Art and Craft Show
Titchfield Art and Craft Show
Saturday 6th and Sunday 7th May
10 am to 5pm (4pm Sunday)
Romsey Art Group Spring Exhibition
Spring Exhibition
29thApril to 13th May
10am to 5pm Daily
Mountbatten Gallery
Lee, Romsey
SO51 9LG

£1 entrance, Refreshments available